Sukhmani Atma Kaur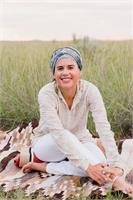 I'm Sukhmani Atma Kaur, a Kundalini Yoga & Meditation teacher and graduate of Columbia University's Masters Clinical Psychology program with a concentration in mind/body healing. I'm devoted to creating and teaching transformative workshops and classes that act as powerful catalysts for creativity, spirituality, and healing. I specialize in holistic counseling and yogic therapy focused on healing relationships with food, negative body image issues, depression, and anxiety.
I received my KY Level 1 training from Yoga Phoenix and have worked at Columbia University Medical Center, New York Presbyterian Hospital Mental Health Eating Disorder/Depression Units, and various women's clinics and centers throughout the U.S. I'm also a recommended source by the National Eating Disorder Associated (NEDA).
SukhmaniAtmaKaur.com
Sukhmani Atma Kaur is currently not instructing any classes.