Jap Dharam Rose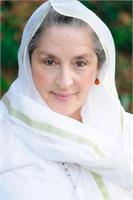 Jap Dharam finished her KRI Level 1 teacher training 11 years ago at Golden Bridge in LA and has never looked back! Having been a teacher of one thing or another most of her adult life, she knows this is what she's meant to do and has merged it with her other great passion, music. As well as being an international recording artist, Jap Dharam continues her study of Kundalini Yoga with annual trips to India, Level Three classes and a deep, exploratory personal practice. She is also a certified Khalsa Way Pre-Natal Yoga teacher and Light Leaders Children's Yoga teacher and the mother of two magical Divine Masculine souls she is proud to call her sons.
www.japdharamrose.com
Jap Dharam Rose is currently not instructing any classes.