Tara Kaur Gallagher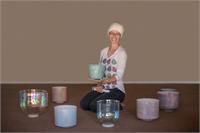 As I look back, my sound healing journey was always waiting to unfold. When I attended my first double gong meditation with Sangeet Kaur and Hari Nam in 2010 I knew I had touched an elemental part of myself previously unexplored. While attending Kundalini Yoga teacher training in 2015 I came into contact with the alchemy bowls and my life started to change, slowly at first and then faster and in more obvious ways.
My relationship to the sound current, to Naad, is that of Divine teacher and Beloved friend. It is with a humble heart that I offer myself to the service of others through this sound and I delight in sharing my passion. I hope to empower others to heal themselves so they in turn can go and serve their communities, changing the world one soul at a time.
Sat Nam.
Tara Kaur Gallagher is currently not instructing any classes.