Indira Helter-Rios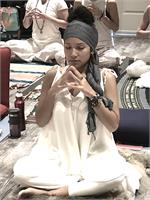 Indira (Deva Charan Kaur) was often referred to as an indigo child and old soul growing up. At the age of five she was introduced to spirituality and meditation which helped her heal from early childhood trauma. Since then it has been her passion to become a healer and spiritual teacher. After experiencing her first sound healing at a festival in 2016, Indira came back home seeking a studio that offered sound healing classes. It was then that she was gifted with finding Anahata. This studio guided her along her journey with Sound Healing & Kundalini Yoga as taught by Yogi Bhajan. Indira is now a Kundalini Yoga Teacher, Sound Healer, Reiki Master & Yoga Nidra teacher. She has recently started her Level 2 training for Kundalini Yoga & Meditation. Indira believes in holding space so that people can awaken to their full potential as well as having the opportunity to experience the unconditional love in life.
Indira Helter-Rios instructs the following:
Enjoy gentle breath work, body awareness, guided visualizations and powerful intention-setting all while hovering in the sweet space just above sleep. Heal yourself from the inside out, leaving refreshed and rejuvenated complete with the high-vibrational healing sounds of the alchemy and quartz crystal singing bowls.




Relax, heal, and renew while laying out in the 60 minute meditative sound healing experience with Bhagat Gian and Indira.

This class Crystal Singing Bowls, Gong, and various other sound healing vibrations. Allow the sound current to heal you physically, emotionally, and spiritually as the sound frequencies bring balance, renewal, and healing at the cellular level!