Lesley Pelkey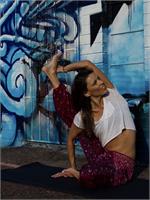 Lesley began a consistent yoga practice in 2007. At the time, she was an avid runner. After sustaining a back injury, she needed to seek out other methods of receiving the same meditational and physical benefits. It didn't take long before she realized the practice was providing much more than she initially expected; it had positively changed and influenced who she was.
Her teaching style reflects over a decade of experience working as a life coach and teacher of holistic health, wellness, and personal development. Her classes are challenging, uplifting, yet approachable. She believes that yoga not only strengthens the body, it also renews the mind and spirit. Her approach inspires her students to look beyond the physical aspects of the practice both on and off their mats.
Lesley is a 200 hour E-RYT certified teacher who studied with John Salisbury. Her passion for creating individual as well as world change has led her to pursue leadership, activism, and trauma informed trainings. Some of her most prominent teachers in those fields include Seane corn, Suzanne sterling, and Hala Khouri. In addition, she completed a 200 hr. Kundalini Yoga teacher training with Anahata Yoga and is continuing with advanced trainings and education for her 500 hr certification. Today, she works as a Realtor and Yoga Teacher. She teaches at phoenix area based studios, corporations and is a lead instructor for teacher trainings.
Lesley Pelkey instructs the following:
These early morning classes include a short, dynamic Kundalini Yoga kriya and a powerful meditation geared to wake you up and get you going. Powerful breathing techniques will transform your blood chemistry, brain chemistry, and activate your glandular system increasing your vitality to meet the demands of your day ahead...

Transform your day! Beginners are welcome.