Onkar Adi Kaur (Ilaiza Cochrane)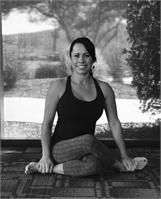 Ilaiza Cochrane (Onkar Adi Kaur) began doing yoga after an injury left her with chronic back pain. Yoga brought relief both physically and mentally as she discovered the many hidden gifts that yoga brought into her life in body, mind and spirit. She is a 500 E- RYT ( Registered Yoga Teacher) trained in traditional Astanga whose classes focus on strength building and alignment. Ilaiza is a firm believer in finding balance in a practice. Having started with gentler practices, the quiet and inner modalities of Yin and Restorative yoga are her passion. She is a Senior Fitness Specialist certified through NASM, National Association of Sports Medicine and a registered Silver Sneakers instuctor certified to bring yoga to senior adults. She has taught hot Gosh lineage sequence, facilitates yoga Nidra, and is a Master Reiki Healer. She is certified to teach Barre, trained in Mat Pilates, and PWR Parkinson's Wellness Recovery. She is presently studying Kriya Yoga through The Self-Realization Fellowship in the tradition of Prahamanansa Yogananda.
Onkar Adi Kaur (Ilaiza Cochrane) instructs the following:
Vinyasa is Sanskrit meaning to flow, or to move without resistance. Power Vinyasa Flow Yoga is a powerful, energetic form of yoga where students fluidly move from one pose to the next while connecting their breathing to their movements. It is a vigorous and revitalizing form of physical, mental and conscious yoga incorporating strength, flexibility, balance, and breath. It is the perfect blend of sweat and serenity.

• Reduces stress, anxiety, and fatigue

• Strengthens the cardiovascular and immune system

• Heals injuries faster and more efficiently
• Eases joint pain and stiffness
• Relaxes muscles and increases flexibility
• Deep cleanses skin naturally
• Removes toxins and mineral waste

• Burns hundreds of calories




Experience Restorative yoga through breath awareness, gentle movements to relax muscles, and supported poses. All poses can be supported by props with modifications as needed. This practice will encourage the body into deep relaxation and total comfort in order to release tension, cultivate awareness of one's own inner stillness and peace, and elicit your own body's intelligence to aid in the healing process. All levels welcome.




Relax and go deep with this slow-paced, passive class as you work into the connective tissues (tendons, ligaments, fascia) and increase circulation and flexibility.

All levels.