Jenna Hedstrom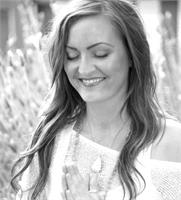 Jenna Hedstrom's spiritual journey began with a dark, shadowy gift – the gift of tragedy. However, this experience led her to yoga and cracked her open to infinite possibility and her Soul's Purpose – living a life of Divine Service. The sacred practice of yoga provided an outlet for her grief, and connecting her breath with movement created a profound alignment of body, mind and Soul stronger than she had imagined in her wildest dreams. Yoga became her life, and her medicine – and then she discovered breathwork.
The Breath of Love has opened Jenna to a level of physical, emotional and spiritual healing like no other healing modality she has found. It has allowed her to transform her own traumas into the powerful healing presence she brings to her sessions and workshops.
Jenna is RYT-200, currently enrolled in KRI-200 Kundalini Yoga as Taught by Yogi Bhajan® (to be complete in October 2017), has completed a certification through Radiant Roots Yoga for Kids Yoga Teacher Training, a 35 hour certification for Trauma-Sensitive Yoga through Holy Yoga as well as a certification to teach 12 Step Yoga for Recovery. She has completed her year-long apprenticeship with Julia Mikk to become a Breath of Love practitioner, and being a forever student of life, has recently decided to continue on with a year-long Advanced Apprenticeship for Breath of Love practitioners. Her extensive background in studying the effect of breathwork and yoga on trauma and addiction recovery, mindfulness and meditation allows profound breakthroughs for her clients.
"Go confidently in the direction of your dreams. Live the life you have imagined." ~ Thoreau
Jenna Hedstrom instructs the following:
A fun and invigorating yoga class, based on linking movement with breath. An energizing flow infused with sun salutations, standing postures and some of the more basic arm balances, inversions and backbends. The teachers keep these classes lively with music and new and interesting postures; no two classes are the same! All stages of the posture are explained so that all levels feel welcome.




Unravel your nervous system and experience the benefits of deep relaxation is through a Reiki Restorative practice. A true remedy for the demands of today's fast-paced world.

Restorative Yoga uses props, such as blankets, bolsters, and blocks, to help you melt into long holds in relaxing postures designed to relieve the effects of chronic stress and pain in the body.

Reiki is Universal Life Force Energy, a holistic energy modality that also works on the nervous system. Reiki is a Japanese technique for stress reduction and relaxation that promotes healing.

Reiki Restorative Yoga will help you to slow down and go within. We are not seeking to create a life with no stress; but rather, we are seeking to balance the stress response so we can show up more fully in all aspects of our lives.

Reiki Restorative Yoga offers a spiritual vacation from the constant demands of our lives allowing us to just "be".