Andrew (Bhagat Gian) Huvaere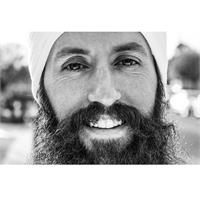 "An attitude of gratitude brings great things." - Yogi Bhajan
Andrew Huvaere (Bhagat Gian Singh) initiated his yogic journey 2013 after experiencing a spontaneous kundalini awakening. Since that day, Andrew has been devoted to his studies in the yogic sciences and the holistic healing arts. His spiritual journey started out with studying Zen Buddhism, mindfulness meditation and practicing vinyasa yoga. In 2014, Andrew had the pleasure of experiencing kundalini yoga as taught by Yogi Bhajan for the first time which blessed him with a life changing moment. He experienced the transformational power that kundalini yoga had to offer and listened to his inner calling to further explore this ancient technology in more depth.
In 2015, Andrew understood his true potential could be realized through a regular practice of kundalini yoga and sought a space that offered these teachings which led him to Anahata Sound & Energy healing studio. The community Andrew found at Anahata was exactly what he had been seeking for since he embarked on his yogic journey. The healing space that Anahata had created as well as the individuals that gave Anahata it's unique personality brought forth this sense of feeling at "home". Andrew immediately enrolled into Kundalini yoga teacher training and began his path of Self-Mastery with guidance from his teacher Sevak Singh.
Andrew is now teaching Kundalini Yoga & Meditation as taught by Yogi Bhajan a few classes per week throughout the valley. He is a Reiki Level 2 practitioner who has also been trained in sound healing through the vibrations of the gong. He is forever a student of life as he is constantly studying, learning, experiencing and practicing other modalities that compliment his journey. Andrew has embodied quite the transformation since initiating his path just a few years ago. He has overcome many self debilitating habits and unfortunate circumstances to rise anew like a phoenix from the ashes. Andrew is committed to holding space and serving his community so that they too may transform themselves towards their highest potential.
Andrew (Bhagat Gian) Huvaere instructs the following:
Relax, heal, and renew while laying out in the 60 minute meditative sound healing experience with Bhagat Gian and Indira.

This class Crystal Singing Bowls, Gong, and various other sound healing vibrations. Allow the sound current to heal you physically, emotionally, and spiritually as the sound frequencies bring balance, renewal, and healing at the cellular level!




All of us are in some form of recovery, most of us have some form of addiction. Whether you have struggled with substance abuse, or over eating, Kundalini Yoga can turn your Self-demoting habits and tendencies into Self Promoting habits. Be a part of a caring community that will help uplift and support you in your journey of recovery. Stay for Yogi Tea after!

The laws of reciprocity state that we reap what we sow... we suggest an offering of $5.00 to be given to your teacher.

If you cannot afford this, please offer any amount, a flower, or anything to create a positive energetic exchange... Sat Nam!




Yoga is a spiritual practice yoking the body, the mind, and the spirit. Kundalini Yoga, the yoga of awareness, delivers you to YOU by clearing and balancing the chakras while building strength and releasing the energy located at the base of your spine. In this class you will focus on breath (pranayama), physical movement (asana), chanting (mantra) and meditation.

Kundalini yoga is the pathway to a happy and healthy life through balancing the blood and brain chemistry, and creating a flow of feel-good hormones in the body. Meditation brings us to state of peace by connecting to the divine within. Ancient technologies for modern times!