Jessica (Damanjoti Kaur) Itami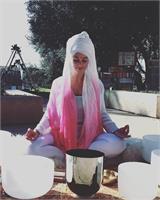 Hello! My name is Jessica Rose Itami (call me Jess)! I've had the lovely privilege to grow up on the west coast living in Phoenix, Arizona and Los Angeles, California. I love meeting new people, traveling the world, helping others build great ideas and feeding the potential within. My goal each day is to continue inspiring myself and therefore bringing others along on our journey to magnificent greatness! I believe that we must all live in the moment and free ourselves from the attachments and distractions in life to truly see our vision of purpose on this earth. I'm so grateful for my yoga practice and love how these tools and philosophies have helped me seek my inner self and have helped shape and mold me into who I am today. I am so excited to share my experience with all and everyone I meet. Sat Nam!
Jessica (Damanjoti Kaur) Itami instructs the following:
The sound of the gong creates deep relaxation, freeing us from the flood of thoughts our mind releases, and stimulates the glandular system to a higher level of functioning.


During the gong meditation emotional transformation is produced as it reduces tension, releases blocks and stimulates circulation. The result is a reorganization of the emotional energy and feelings that are tied into the body structure. The gong changes feelings that are blocked by cutting the thoughts that sustain and recreate the feelings.


The gong meditation clears the nerve endings and regenerates the parasympathetic system which is ruled by sound. The parasympathetic system sends "relax" messages to all the organs. It regulates the rebuilding functions of the body and it is vital for handling stress since it coordinates the recovery period from stress. To regenerate the parasympathetic system, nothing is more powerful than the gong.


All the student needs to do is let the entire body relax and let the sound of the gong penetrate the body and guide the mind.


Wear comfortable clothing
Bring mat &/or blanket to lie down on
Hydrate before & after the gong; helps nerve function & cleansing of body
Try not to eat or eat very lightly 1-2 hours before the gong; so your body's energy isn't focused on digestion




Yoga is a spiritual practice yoking the body, the mind, and the spirit. Kundalini Yoga, the yoga of awareness, delivers you to YOU by clearing and balancing the chakras while building strength and releasing the energy located at the base of your spine. In this class you will focus on breath (pranayama), physical movement (asana), chanting (mantra) and meditation.

Kundalini yoga is the pathway to a happy and healthy life through balancing the blood and brain chemistry, and creating a flow of feel-good hormones in the body. Meditation brings us to state of peace by connecting to the divine within. Ancient technologies for modern times!