Sangeet Khalsa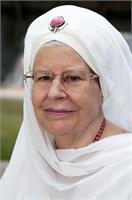 S.S. Sangeet Kaur Khalsa, KRI Level 1 & 2 Sr. Lead Trainer, is the founder/director of The Healing Source LLC and the Womanheart Program which has supported the growth of thousands of women and their communities through retreats and conferences held over the past 25 years. She studied directly with Yogi Bhajan for nearly 30 years and was among the few to be personally molded by him. She was appointed by him and served for the past 20 years on the founding committee that has shepherded the development of all Kundalini Yoga international teacher training programs and the development of the Aquarian Trainer Academy. A former New York corporate executive for 25 years, Sangeet is also a recognized Master Numerologist with her "Blessings Code" system and a minister in the Sikh spiritual path (indicated by the initials "S.S."). Her books and CDs continue to inspire people worldwide.
Sangeet Khalsa instructs the following:
Yoga is a spiritual practice yoking the body, the mind, and the spirit. Kundalini Yoga, the yoga of awareness, delivers you to YOU by clearing and balancing the chakras while building strength and releasing the energy located at the base of your spine. In this class you will focus on breath (pranayama), physical movement (asana), chanting (mantra) and meditation.

Kundalini yoga is the pathway to a happy and healthy life through balancing the blood and brain chemistry, and creating a flow of feel-good hormones in the body. Meditation brings us to state of peace by connecting to the divine within. Ancient technologies for modern times!