Sangeet Khalsa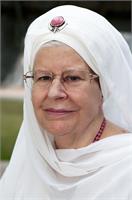 S.S. Sangeet Kaur Khalsa, KRI Level 1 & 2 Sr. Lead Trainer, is the founder/director of The Healing Source LLC and the Womanheart Program which has supported the growth of thousands of women and their communities through retreats and conferences held over the past 25 years. She studied directly with Yogi Bhajan for nearly 30 years and was among the few to be personally molded by him. She was appointed by him and served for the past 20 years on the founding committee that has shepherded the development of all Kundalini Yoga international teacher training programs and the development of the Aquarian Trainer Academy. A former New York corporate executive for 25 years, Sangeet is also a recognized Master Numerologist with her "Blessings Code" system and a minister in the Sikh spiritual path (indicated by the initials "S.S."). Her books and CDs continue to inspire people worldwide.
Sangeet Khalsa instructs the following:
Although geared for intermediate practitioners, this class can be taken by students who have a basic understanding of Kundalini Yoga and have attended a few classes. Expect frogs!

Through a challenging series of asanas (postures), mudras, (hand locks) pranayama (breathing techniques) and meditation, the practice of Kundalini Yoga balances the glandular system, strengthens the nervous system, and enables us to harness the energy of the mind and the emotions, so we can be in control of ourselves, rather than being controlled by our thoughts and feelings.

We will dive deeper into the traditions and practices of Kundalini Yoga and learn how we can best utilize the teachings, tools and technologies in our everyday lives.




2019 Planetary & Personalized Numerology Forecast with Sangeet Kaur Khalsa


Friday, December 29th, 2018 | 6:00 pm - 8:30 pm | $39.00





Discover How to Enjoy Your Best New Year!

This is a special year-end class that Sangeet delivers each New Year for everyone to learn what gifts and challenges the new annual cycle holds for the planet and for themselves. No knowledge of numerology is necessary!


You'll easily learn your 2019 Personal Annual Cycle and what it means, and then see how that is affected by the Planetary Cycle. That's a high spiritual year for all of us, yet also a year with spiritual challenges.


As a Master Numerologist and Sr. Trainer in Kundalini Yoga, Sangeet will give each of us tips for securing the best outcomes using yoga, pranayam and meditations. Come gather and prepare to build your resources to get your best year ever!