Cheryl Oliver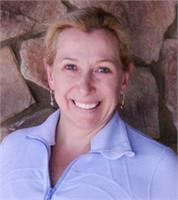 Cheryl Oliver, E-RYT500 has been teaching sanskrit, vedic chant and yoga philosophy since 2004 (and asana since 1998.) Cheryl's teaching style is warm and compassionate, enthusiastic and patient. Every workshop is experiential (and fun!) as Cheryl gently encourages students out of their comfort zone toward practice, understanding and transformation. Cheryl is blessed to count Sonia Nelson, Deborah Kuryan and Nicolai Bachman among her teachers, and to date has completed two trips to India to study at Vedavani and the Krishnamacarya Yoga Mandiram.
Cheryl Oliver instructs the following:
A fun and invigorating yoga class, based on linking movement with breath. An energizing flow infused with sun salutations, standing postures and some of the more basic arm balances, inversions and backbends. The teachers keep these classes lively with music and new and interesting postures; no two classes are the same! All stages of the posture are explained so that all levels feel welcome.