Siri Narayan Kaur (Hillary Palestrant)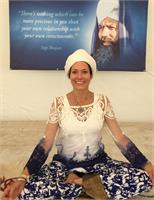 I have been blessed to experience the beneficial deeply transformative effects of Kundalini Yoga and Meditation in my life and in the lives of many others. I am committed to sharing the teachings for the betterment and upliftment of humanity.

Kundalini Yoga Level 1 Teacher Training through 3HO of Arizona October 2005.

The Khalsa Way Pregancy Yoga Teacher's Training Program February 2007.

Level 2 Conscious Communication Course 2012.

Level 2 Authentic Relationships 2014.
Level 2 Stress & Vitality 2016.
Siri Narayan Kaur (Hillary Palestrant) instructs the following:
Although geared for intermediate practitioners, this class can be taken by students who have a basic understanding of Kundalini Yoga and have attended a few classes. Expect frogs!

Through a challenging series of asanas (postures), mudras, (hand locks) pranayama (breathing techniques) and meditation, the practice of Kundalini Yoga balances the glandular system, strengthens the nervous system, and enables us to harness the energy of the mind and the emotions, so we can be in control of ourselves, rather than being controlled by our thoughts and feelings.

We will dive deeper into the traditions and practices of Kundalini Yoga and learn how we can best utilize the teachings, tools and technologies in our everyday lives.