Lisa Lippincott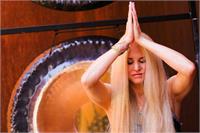 Lisa Lippincott is a teacher and healer with a B.S. in Human Development from the University of California at Davis. She is a two hundred hour, certified Yoga instructor and has completed several meditation classes including a study of the Bhagavad-Gita, Sanskrit and the Shaktipat Intensive with Durga Ma in 2008.
A graduate of the Medicine Wheel program and The Advanced Wisdom School of Shamanic techniques at Dreamtime, LLC, Lisa has also completed studies with Steve Price, in Yoga Nidra. Lisa also holds a BA Degree in Sound Healing through The Sound Institute.
She is a passionate woman who loves life, people and the evolution of our awareness and combines her spiritual practices and Co Creates with her Gongs to give a unique and spiritual modality of healing vibrations of Love, Gratitude and ONEness and has build a community of like minded people. Lisa lives in Scottsdale, Arizona.
www.Gongster.com
Lisa Lippincott is currently not instructing any classes.