Frank (Seva Narayan Singh) Kee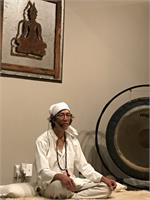 Frank (Sevak Narayan) is a Level 1 200 hour certified KRI & YA Kundalini Yoga instructor and studied under Sevak Singh Khalsa. He is currently taking Level 2 training and has taken over 200+ hours of additional class time with various Kundalini instructors around the country and over 100+ hours of class time in other yoga styles. He has a keen interest in the natural healing modalities and has practiced and taken classes in Ayurveda, Shiatsu, Thai Message, Sat Rayasan, and is certified in Reiki. He was also a Quantum Touch Instructor having taught in USA, New Zealand, and Australia. In addition Frank has extensively studied martial arts and other meditation styles. In past years he has lived & worked overseas as an expat employed in the technical field. A seasoned world traveler he has had the good fortune to have visited 60 international countries some of which were done by bicycle touring. A passionate believer in the subtle arts he is now taking a keen interest in sound healing having training with singing bowls and gongs. His spiritual name "Seva" means to serve and "Narayan" means in clear consciousness or light. Frank's motto is to spread the love and bring more compassion, balance, and peace to the planet.
Frank (Seva Narayan Singh) Kee is currently not instructing any classes.