Eva Maurice & Three Trees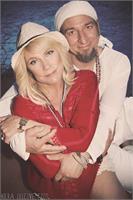 Eva Maurice, Spiritual Counselor, is an inspiring, contemporary transformational leader and founder of GodTalks™ Her mission is to support those who seek soul healing, deeper relationships and desire to embrace life through one on one sessions, group retreats and workshops, speaking engagements and programs such as the "40 Days of Self Love". She's been pursuing her own spiritual practice since the late 80's and continues to grow with her clients. She has counseled many clients to lead more peaceful lives and achieve their dreams. Eva's currently leading meditations, talking circles as well as workshops and retreats in Sedona, Los Angeles and Scottsdale. Her clients live all over the US and she enjoys traveling to share the light of love, peace, joy and abundance. Eva is known for her transparency and humor that allows people to feel at ease and understood.
Three Trees is a Healer, Teacher, Musician, Artist and the creator of 'SoulMonic™ Sound Healing'. He holds a passion for deepening our connection to the Sacred through music and understanding the mysteries of sound and rhythm as a healing modality for all levels of being. Following this path for the last 17 years as a sound healing practitioner and teacher (as well as being a craftsman of drums, didgeridoos, and native flutes), gives Three Trees a unique and profound understanding of the relationship between Sound, Rhythm, Intention and Sacred Connection. His joyful passion and Divine calling is to share this vast knowledge, in loving service, as he incorporates the music and wisdom from many indigenous traditions around the world while integrating the emerging science of sound healing/vibrational therapy. A resident of Sedona, AZ for the last 15 years, Three Trees has become internationally recognized for the creation of SoulMonic™ Sound Healing, as well as for his performances and music ceremonies at many conferences, retreats and events.
Eva Maurice & Three Trees is currently not instructing any classes.