Banidev Kaur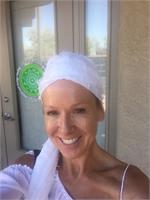 Banidev Kaur is a Kundalini Yoga Teacher, Occupational Therapist, and Personal Trainer. Her personal discovery of Kundalini Yoga began in 2014 when she met her teacher, Sevak Singh Khalsa, at Anahata Yoga, Sound and Energy Healing. She has completed Level 2 Conscious Communication and continues to embark on Level 2 training modules. A caring and down-to-earth teacher, she is dedicated to delivering the powerful yogic technology of Kundalini Yoga and Meditation to all students of various levels and abilities.
I invite you to join her to begin your personal journey of self-discovery.
Banidev Kaur instructs the following:
Yoga is a spiritual practice yoking the body, the mind, and the spirit. Kundalini Yoga, the yoga of awareness, delivers you to YOU by clearing and balancing the chakras while building strength and releasing the energy located at the base of your spine. In this class you will focus on breath (pranayama), physical movement (asana), chanting (mantra) and meditation.

Kundalini yoga is the pathway to a happy and healthy life through balancing the blood and brain chemistry, and creating a flow of feel-good hormones in the body. Meditation brings us to state of peace by connecting to the divine within. Ancient technologies for modern times!