Jessica (Damanjoti Kaur) Itami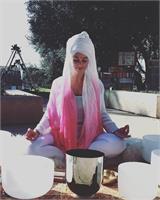 Hello! My name is Jessica Rose Itami (call me Jess)! I've had the lovely privilege to grow up on the west coast living in Phoenix, Arizona and Los Angeles, California. I love meeting new people, traveling the world, helping others build great ideas and feeding the potential within. My goal each day is to continue inspiring myself and therefore bringing others along on our journey to magnificent greatness! I believe that we must all live in the moment and free ourselves from the attachments and distractions in life to truly see our vision of purpose on this earth. I'm so grateful for my yoga practice and love how these tools and philosophies have helped me seek my inner self and have helped shape and mold me into who I am today. I am so excited to share my experience with all and everyone I meet. Sat Nam!
Jessica (Damanjoti Kaur) Itami instructs the following:
Relax, heal, and renew while laying out in the 60 minute meditative sound healing experience with Bhagat Gian and Indira.

This class Crystal Singing Bowls, Gong, and various other sound healing vibrations. Allow the sound current to heal you physically, emotionally, and spiritually as the sound frequencies bring balance, renewal, and healing at the cellular level!