Sangeet Khalsa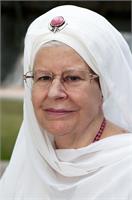 S.S. Sangeet Kaur Khalsa, KRI Level 1 & 2 Sr. Lead Trainer, is the founder/director of The Healing Source LLC and the Womanheart Program which has supported the growth of thousands of women and their communities through retreats and conferences held over the past 25 years. She studied directly with Yogi Bhajan for nearly 30 years and was among the few to be personally molded by him. She was appointed by him and served for the past 20 years on the founding committee that has shepherded the development of all Kundalini Yoga international teacher training programs and the development of the Aquarian Trainer Academy. A former New York corporate executive for 25 years, Sangeet is also a recognized Master Numerologist with her "Blessings Code" system and a minister in the Sikh spiritual path (indicated by the initials "S.S."). Her books and CDs continue to inspire people worldwide.
Sangeet Khalsa instructs the following:
Select Sundays from 1:30-2:45

This special new class at Anahata is quickly growing into a twice-a-month spectacular - a step beyond the usual "gong bath" into a true immersion in healing sounds that bring the full elevating power of Infinity to each participant.


Playing six magnificent gongs that bring a wide range of Divine Music to de-stress, cleanse and uplift you, the husband-wife team of Sangeet and Hari Nam is creating sound healing in ever new, rich and exciting ways. Included at each session are individual tonal patterns created for and delivered to each person in the room.


With every one of these deep gong meditations at Anahata Sangeet and Hari Nam are building a sensory immersion that will carry you for days, brightening your world and enriching your experience of your blessed nature. This is a true treasure, offered with such devotion and heart! Come alive with the music of the spheres.