Kim (Ravidass Kaur) Balzan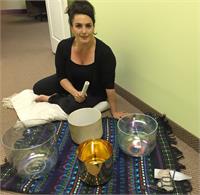 Kim was a professional makeup artist for over 20 years creating beauty on the outside. After taking a break and having three children, she had a spiritual awakening and followed her heart and became a Holistic Health Practitioner to help create beauty and wellness on the inside, the most important part, graduating from Integrative Nutrition and The Institute for the Psychology of Eating.
Kim is a certified hypnotherapist, a Reiki Master teacher, and was also trained at Southwest Institute of Healing Arts to become a certified Yoga Nidra Facilitator. She has also studied Sound Healing and other healing modalities and is passionate about healing and bringing people to their highest level of awareness and enlightenment.
Kim (Ravidass Kaur) Balzan instructs the following:
Enjoy gentle breath work, body awareness, guided visualizations and powerful intention-setting all while hovering in the sweet space just above sleep. Heal yourself from the inside out, leaving refreshed and rejuvenated complete with the high-vibrational healing sounds of the alchemy and quartz crystal singing bowls.