Vanessa Ernst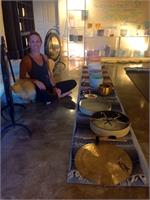 Growing up in San Diego and New Mexico, outdoor activities were a way of life. Biking, snowboarding, hiking and swimming, experiencing it all. Vanessa followed her family to AZ and suffered through the desert heat, but found a silver lining in yoga.
Vanessa's introduction to yoga was in 1998 with Carlin Sikes (BKS Iyengar) at Scottsdale Community College. In 2005 she met Marivic Wrobel, who inspired and encouraged her to continue practicing. Vanessa's desire for stability and fulfilling a need for peace drove her to enroll in At One Teacher Training, completing a 200 Hour YTT Certification in 2014.
Thanks to Yoga Vanessa has been able to change the course of her life. Yoga has taught her to accept and adapt to where she has been and be prepared for the new challenges ahead. Her journey is an example of some of the toughest lessons in life, but with love and support she was able to transform herself. Much like the lotus blossom that proves its strength and stamina from which it comes, her spiritual rejuvenation and courage to stay healthy will help her give to others, follow her calling and love herself.
Vanessa Ernst instructs the following:
Relax, heal, and renew while laying out in the 60 minute meditative sound healing experience. This class incorporates pranayama (breath), chanting, Crystal Singing Bowls, Gong, and various other sound healing vibrations. Allow the sound current to heal you physically, emotionally, and spiritually as you tune and balance at the cellular level!




Experience Restorative yoga through breath awareness, gentle movements to relax muscles, and supported poses. All poses can be supported by props with modifications as needed. This practice will encourage the body into deep relaxation and total comfort in order to release tension, cultivate awareness of one's own inner stillness and peace, and elicit your own body's intelligence to aid in the healing process. All levels welcome.




A fun and invigorating yoga class, based on linking movement with breath. An energizing flow infused with sun salutations, standing postures and some of the more basic arm balances, inversions and backbends. The teachers keep these classes lively with music and new and interesting postures; no two classes are the same! All stages of the posture are explained so that all levels feel welcome.




If you have never done yoga, are new to the practice, or an experienced yogi, this all level 60 minute therapeutic gentle, meditative, yoga class focuses on the basic elements of posture, alignment, verbiage, and includes breath-work, and crystal sonic sound vibrations. See you on the mat!