Cheryl Oliver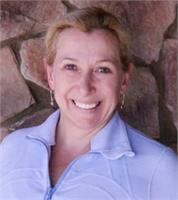 Cheryl Oliver, E-RYT500 has been teaching sanskrit, vedic chant and yoga philosophy since 2004 (and asana since 1998.) Cheryl's teaching style is warm and compassionate, enthusiastic and patient. Every workshop is experiential (and fun!) as Cheryl gently encourages students out of their comfort zone toward practice, understanding and transformation. Cheryl is blessed to count Sonia Nelson, Deborah Kuryan and Nicolai Bachman among her teachers, and to date has completed two trips to India to study at Vedavani and the Krishnamacarya Yoga Mandiram.
Cheryl Oliver instructs the following:
The 1/2 Primary Series is a minute Astanga class. Astanga is the Eight Limbs of Yoga ... Postures (asanas) are linked together by flowing movement (vinyasa). The joining of the vinyasa with the gaze (drsti), the breath (pranayama) and the energy "locks" (bandha) is a powerful discipline for cultivating physical, mental and spiritual health. This practice cleanses, stretches and strengthens the body as well as focuses and calms the mind.