Siri Narayan Kaur (Hillary Palestrant)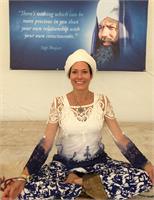 I have been blessed to experience the beneficial deeply transformative effects of Kundalini Yoga and Meditation in my life and in the lives of many others. I am committed to sharing the teachings for the betterment and upliftment of humanity.

Kundalini Yoga Level 1 Teacher Training through 3HO of Arizona October 2005.

The Khalsa Way Pregancy Yoga Teacher's Training Program February 2007.

Level 2 Conscious Communication Course 2012.

Level 2 Authentic Relationships 2014.
Level 2 Stress & Vitality 2016.
Siri Narayan Kaur (Hillary Palestrant) is currently not instructing any classes.