Siri Narayan Kaur (Hillary Palestrant)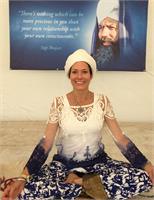 I have been blessed to experience the beneficial deeply transformative effects of Kundalini Yoga and Meditation in my life and in the lives of many others. I am committed to sharing the teachings for the betterment and upliftment of humanity.

Kundalini Yoga Level 1 Teacher Training through 3HO of Arizona October 2005.

The Khalsa Way Pregancy Yoga Teacher's Training Program February 2007.

Level 2 Conscious Communication Course 2012.

Level 2 Authentic Relationships 2014.
Level 2 Stress & Vitality 2016.
Siri Narayan Kaur (Hillary Palestrant) instructs the following:
Yoga is a spiritual practice yoking the body, the mind, and the spirit. Kundalini Yoga, the yoga of awareness, delivers you to YOU by clearing and balancing the chakras while building strength and releasing the energy located at the base of your spine. In this class you will focus on breath (pranayama), physical movement (asana), chanting (mantra) and meditation.

Kundalini yoga is the pathway to a happy and healthy life through balancing the blood and brain chemistry, and creating a flow of feel-good hormones in the body. Meditation brings us to state of peace by connecting to the divine within. Ancient technologies for modern times!