Jeanene (Satjeet Kaur) Farley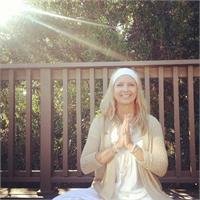 Jeanene, Satjeet Kaur, or as her students refer to her, "Yogini Jeanie" holds a 200 hr. yoga certification in Hatha from At One Yoga and Kundalini from Yoga Phoenix as well as a 500 hr. advanced yoga certification in Astanga from Dave's Astanga Yoga. She was personally mentored by Gila Shire in Yin/Restorative Yoga.

Enjoying and believing in the therapeutic effects of many different types of healing modalities, Jeanene went on to be trained in playing the Symphonic Gong, is a Reiki 3 (healing through the hands) certified healer and trained in Yoga Nidra (guided meditation into the deepest state of awareness).

Jeanene is frequent a contributor to adult teacher training programs and brings over 25 years of experience in training teachers to teach kid's yoga through her unique kid's teacher training program.

Her current teaching schedule includes hot yoga, yin/restorative, Kundalini, Hatha-Lini, kid's yoga, yoga nidra and she plays the Gong in many of her classes.
Jeanene is currently participating in Level 2 Kundalini Yoga Teacher Training!
Jeanene (Satjeet Kaur) Farley instructs the following:
Enjoy gentle breath work, body awareness, guided visualizations and powerful intention-setting all while hovering in the sweet space just above sleep. Heal yourself from the inside out, leaving refreshed and rejuvenated complete with the high-vibrational healing sounds of the alchemy and quartz crystal singing bowls.




Experience Restorative yoga through breath awareness, gentle movements to relax muscles, and supported poses. All poses can be supported by props with modifications as needed. This practice will encourage the body into deep relaxation and total comfort in order to release tension, cultivate awareness of one's own inner stillness and peace, and elicit your own body's intelligence to aid in the healing process. All levels welcome.